I wish I was at Sock Summit. . . .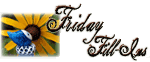 1. Enjoying the sun is my favorite summertime activity.
2. My favorite John Hughes movies is the Breakfast Club.
3. Di's snout is something I love to touch.
4. The full moon makes me want to howl!
5. I need to take a nap right now.
6. When daylight fades I sometimes get a creepy feeling.
7. And as for the weekend, tonight I'm looking forward to working (it is that time of year again), tomorrow my plans include more work and Sunday, I want to do nothing!